Common Venting - The Epitome of Streamlined Installation
With Rinnai Common Venting, up to eight Tankless Water Heater (TWH) units share the same vent system—which means significantly fewer wall or roof cuts, less labor, and longer vent lengths than ever possible with single-unit TWH venting. The system is also fully CSA-certified and uses polypropylene PP—a more reliable venting material for the job, able to withstand exhaust temperatures up to 230° F.
Clean, Easy, Cost-Saving Install:
Vent lengths up to 100' with seven TWH units; 41' with eight TWH units
Easy push fit joints—no cement or glue required
Non-return valve prevents backflow of exhaust gases into idle tankless water heaters
In-line or back-to-back installations; horizontal or vertical termination
More options than ever before for indoor installations
Reduces wall penetrations
Along with our existing common venting options, Rinnai has five common vent solutions including:
Room Air for the U.S.
Direct Vent with side wall intake and vertical exhaust for the U.S. and Canada*
Direct Vent for Canada
In a common vent room air configuration, multiple unit installations like the Tankless Rack SystemTM (TRS) use the air in the room for intake air and therefore require only one vent penetration for the exhaust. This means one less cut, saving time and money for system installation. Room air can be used only in applications that utilize the approved Rinnai common vent method.
For more flexibility, common venting can now be done in different plane configurations with a vertical exhaust vent and horizontal air intake. Both of these new solutions use Rinnai's existing 8" venting material and are approved for markets that require ULC S636 for venting.
Single-unit vent solutions:
The dual venting configurations on the top allows for maximum flexibility for installers and dealers - one concentric vent or two PVC/CPVC pipes can be used for venting.
Concentric Polypropylene
Dual-pipe PVC/CPVC
*Exhaust must terminate vertically
Performance-Enhancing Accessories
Performance-enhancing accessories can add even more flexibility to precisely engineered Rinnai Tankless Water Heaters.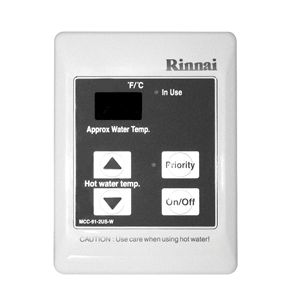 Digital Temperature Controller
Rinnai tankless units are digitally-controlled for a precise temperature set-point. The MCC-91 controller is needed for temperatures above 140° F to 185° F for SE and HE+ Series models (not required for C199).
EZConnect® Cable (REU-EZC-1-US)
Electronically connects two units so they function as one hot water source.
Multi-System Controller
REU-MSB-M (Master Controller)

REU-MSB-C1 (Tankless To Tankless Cable)

REU-MSB-C2 (MSB-M Connection Cable)
Maintenance Indication Switch (MIS) (103000037)
The MIS is used to connect Rinnai Tankless Water Heaters to a central building management system (BMS), which then notifies the building or facility manager if a unit is experiencing a critical diagnostic code. This helps to minimize downtime associated with non-operating units and ensures any problem with individual or multiple units is quickly resolved.
Connect up to 25 TWH units for your most demanding applications. The controller rotates unit activation to ensure that each gets equal run-time,greatly extending the overall life of the system.

Condensate Neutralization Tank (103000067)

The condensate produced by condensing tankless water heaters is acidic and has the potential to harm the environment and sewer system. Rinnai's Condensate Neutralization Tank will neutralize the condensate to a more neutral pH level before it is discharged to drain.
The Hugo Batter Backup System, made by Safeguard Power Solutions, is specifically designed for Tankless Water Heaters in both residential and commercial or indoor/outdoor applications. It can be used with other non-flow devices as well. More information is available on our Hugo X-1 web page.
All continuous flow calculations based on maximum performance (Btu input)
With hot water usage of 1 hour per day, The Hugo battery should provide sufficient power for 5-7 days