Rinnai Commercial Water Heating Solutions are a perfect fit for multi-family property owners looking for significant savings on their energy consumption and costs. In addition, space savings can also free up space allowing for more net usable space for other purposes. With multiple tankless units, redundancy allows for service and maintenance without shutting the entire system down.
The Rinnai system can deliver hot water simultaneously to multiple water sources inside each residential unit. Safe and virtually maintenance-free, Rinnai features a range of user-friendly digital controllers that facilitates both advanced system monitoring and selection of the desired water temperature. Ideal for multi-family properties, they can be installed individually in each tenant unit or in multiples for delivery to a holding tank.
That's why for decades, a full spectrum of commercial applications - from retrofit to new construction and light to heavy - have trusted Rinnai Tankless Water Heaters. Because the system configures to your needs and to every kind of space, Rinnai's  state-of-the-art, energy-efficient technology delivers hot water only when water flow is detected – resulting in an endless supply of hot water.
Rinnai systems requires minimal installation space and can be wall mounted indoors or outdoors – a huge benefit for energy conversion or new construction applications. And it uses a unique concentric venting system so that only one penetration needs to be made for both intake air and exhaust, maximizing both safety and space usage.
Introducing The Worry-Free Hot Water Program
Turnkey Installation and Maintenance with No Cash Down, Fixed monthly payments and 100% System Sizing Guarantee.
Never pay for another repair bill again! Contact us today to receive your free consultation by filling out our quote form, calling us at (844) 348-4714 or send an email to nca@rinnai.us.
Interesting Case Studies
Island West Apartments
By Island West Apartments replacing their heat pump system with Rinnai Tankless Water Heaters, they were able to save apartment owners significantly on replacement and energy costs. Learn More...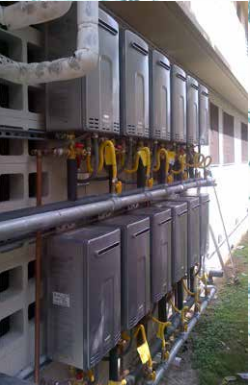 ---
Riverbend at Lansdowne Woods Community
Riverbend replaced their Domestic Steam Boilers (before) with Rinnai Tankless Rack System (after). Learn More...
We are very enthusiastically invested in our new Rinnai Racks and how they have transformed our domestic hot water system while already reducing our operating costs." — CRAIG MAGARGEL, BUILDING MANAGER AT RIVERBEND