Condensing Boilers Venting & Accessories
Flexible Venting Options
Rinnai Condensing Wall-Mounted Gas Boilers ensure a simple installation in any home, and are ready for direct-vent right out of the box—through either a wall or roof penetration. The twin-pipe adapter included allows venting with outside air  intake. A comforting combination of safety and flexibility is available with concentric venting, which permits outside air intake through a single wall or roof penetration.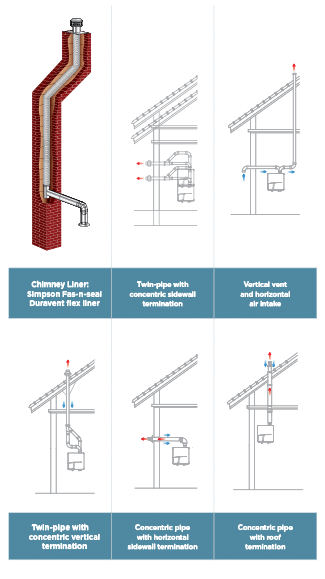 Low-Loss Header
In order to optimize overall performance and  provide durability, every Rinnai boiler includes a factory-assembled low-loss header. The easy-to-install low-loss header eliminates the need for balanced pump sizing, simplifying system design.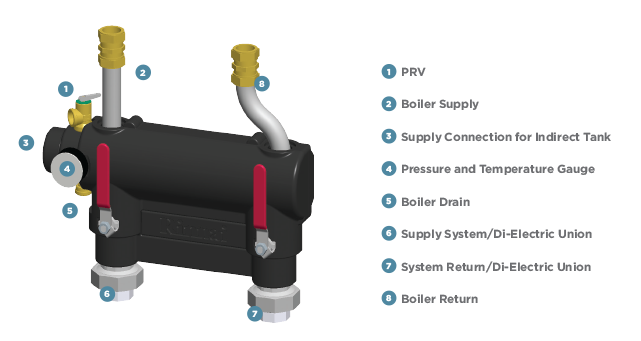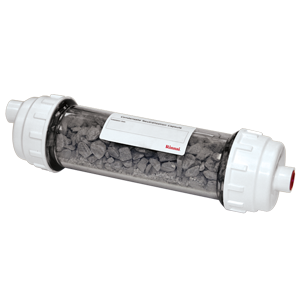 Condensate Neutralizer Kit
The Condensate Neutralizer Kit can be used with Rinnai Condensing Boilers and Tankless Water Heaters. The kit can be mounted vertically or horizontally and proves for a fast and simple installation. By raising the pH level of the condensate before the water discharges to the drain, the kit can prevent damage to the pipes and enhance the performance of the unit. A clear capsule ensures timing for replacement of the media to keep units operating at peak performance.
RS100 Digital Controller
The RS100 Digital Controller is a simple device with backlit display. Available for E Series and Q Series Condensing Gas Boilers, the RS100 allows homeowners to create custom profiles to fit individual needs. The controller features three factory-preset programs, error reporting and adaptive indoor reset control.